Miss Martinique 2023: The Next Generation of Beauty for Miss Universe
Miss Martinique 2023 is just around the corner, and the excitement is building! This year's competition promises to be one of the most exciting yet, with a talented group of contestants vying for the title. But what makes Miss Martinique such an important event in Martinican culture? Let's take a look at the history of the pageant and its impact on the community.
Miss Martinique has been held annually since 1977. However, the pageant has seen a resurgence in popularity in recent years, with increased participation from young women across the island and a growing online following. The competition is open to young women between the ages of 18 and above, who are residents of Martinique.
Miss Martinique 2023 - Celebrating the Best of Martinique's Beauty for Miss Universe
The Miss Martinique pageant is more than just a beauty contest; it's also an opportunity for young women to showcase their talents, intelligence, and passion for their community. The competition includes categories such as swimwear, evening gown, and interview, with judges looking for well-rounded contestants who are not only physically beautiful but also intelligent, confident, and dedicated to making a positive impact on Martinican society.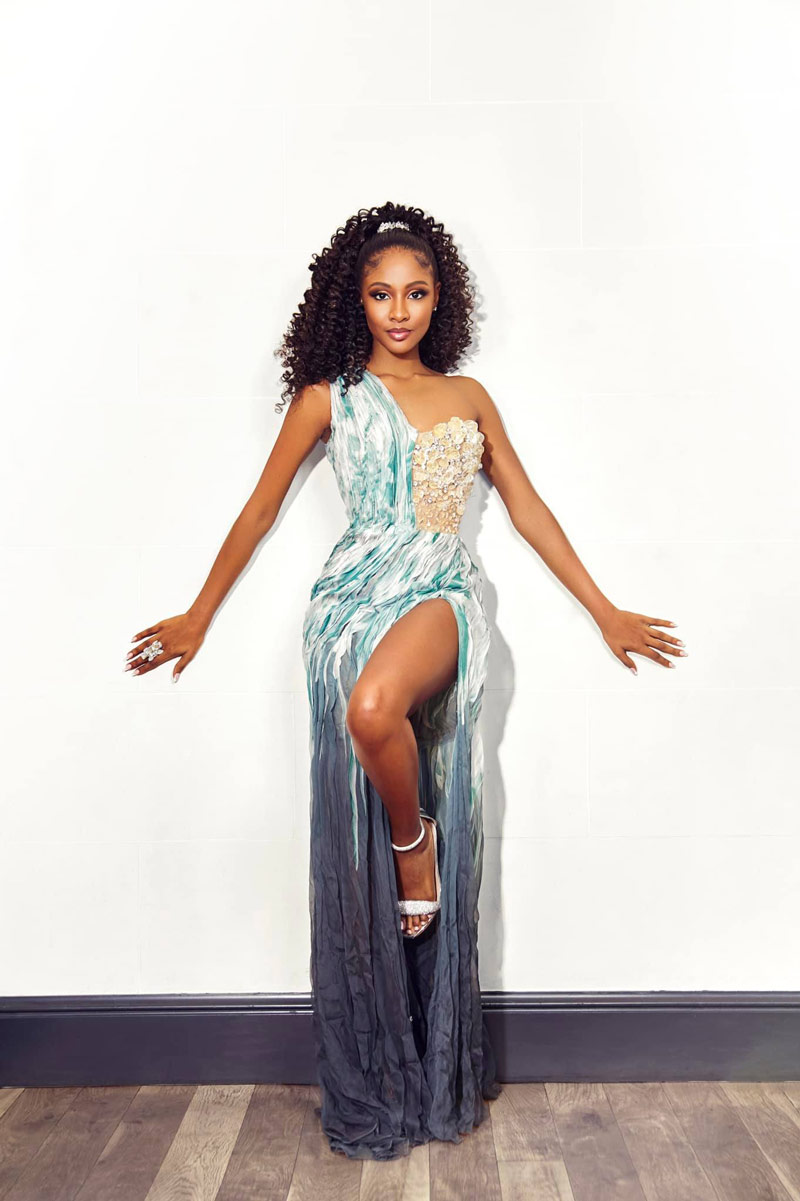 Source https://www.facebook.com/electionmissmartinique/
One of the unique aspects of Miss Martinique is its focus on empowering young women to pursue their dreams and make a difference in their community. The pageant provides a platform for contestants to showcase their skills and talents, as well as provide them with opportunities for personal growth and development. Many past winners have gone on to successful careers in modeling, acting, and other fields, while others have used the experience and exposure gained from the pageant to launch charitable initiatives and community projects.
So who will be crowned Miss Martinique 2023? The competition promises to be fierce, with talented contestants vying for the title. Will it be Adeline Lafontaine, a stunning blonde with a passion for dance and music? Or perhaps it will be Camille Leroy, an intelligent brunette with a love of science and technology? Whatever the outcome, Miss Martinique 2023 is sure to be an unforgettable experience that will showcase the very best of Martinique's beauty and intelligence.
Meet the Previous Winners
We would like to take this opportunity to recognize all of the past winners of Miss Martinique since 1977:
A Look at the History of Miss Martinique and its Impact on Martinican Culture
Axelle René (Miss Martinique 2022)
Floriane Bascou (Miss Martinique 2021) Competed at Miss Universe 2022 (representing France)
Séphorah Azur (Miss Martinique 2020)
Ambre Bozza (Miss Martinique 2019)
Olivia Luscap (Miss Martinique 2018)
Laure-Anaïs Abidal (Miss Martinique 2017)
Aurélie Joachim (Miss Martinique 2016)
Morgane Edvige (Miss Martinique 2015)
Moëra Michalon (Miss Martinique 2014)
Nathalie Frédal (Miss Martinique 2013)
Camille René (Miss Martinique 2012)
Charlène Civault (Miss Martinique 2011)
Anaïs Corosine (Miss Martinique 2010)
Cindy Chénière (Miss Martinique 2009)
Laura Fidi (Miss Martinique 2008)
Bianca Careto (Miss Martinique 2007)
Vanessa Aimée (Miss Martinique 2006)
Christine Nemorin (Miss Martinique 2005)
Lydia Martial (Miss Martinique 2004)
Flora Renault (Miss Martinique 2003)
Séverine Cyrille (Miss Martinique 2002)
Florence Jean-Louis (Miss Martinique 2001)
Peggy Chény (Miss Martinique 2000)
Axelle Negouai-Isaac (Miss Martinique 1999)
Louisiane Pellan (Miss Martinique 1998)
Véronique Caloc (Miss Martinique 1997)
Valérie-Betty Villeronce (Miss Martinique 1995)
Murielle-Justine Jobello (Miss Martinique 1994)
Valérie Pierrode (Miss Martinique 1993)
Christelle Marie-Luce (Miss Martinique 1992)
Sandrine Jox (Miss Martinique 1991)
Pascale Louiset (Miss Martinique 1990)
Martine Timard (Miss Martinique 1988)
Elsa Victoire (Miss Martinique 1987)
Guylaine Fonsat (Miss Martinique 1986)
Brigitte Matrol (Miss Martinique 1985)
Marie-Line Babot (Miss Martinique 1984)
Jocelyne Pigeonneau (Miss Martinique 1979)
Murielle Péloponèse (Miss Martinique 1977)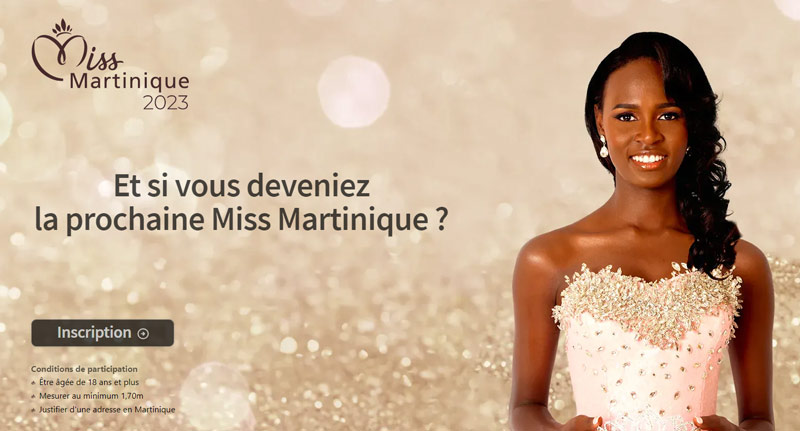 Source https://www.facebook.com/electionmissmartinique/
We would like to take a moment to recognize the hard work and dedication of the Miss Martinique team, who have worked tirelessly to make this year's competition a success. We would also like to extend our gratitude to all of the contestants who have participated in the pageant over the years, as well as their families and supporters.
A tip for participating: if you want great images of yourself, head over to the beach and hire a local photographer to make amazing beach shots.
If you are interested in participating in Miss Martinique 2023 or would like more information about the pageant, please visit [email protected] or missmartinique.fr. We look forward to seeing you there!
We hope that you have enjoyed this blog post about Miss Martinique 2023, and we look forward to seeing you at the competition!

Our Tips
Tags:
#Boat #Marine #Water #Environment #Renting #Business #Location #Society #Lake #Fishing #Service #Economy #Book #Literature #Family #Party #Tool #Telephone call #Information #Everyday life #Jet Ski #Facebook #Organization #Employment #Adventure #Point and click #Technology #Beach #Property law #Law #Hour #Web page #Trips #Sea #Workforce #Beauty #Sailing #Sport: Sailing #Manufacturing #Crew #Adventure travel #Personal flotation device #Friendship #Price #Wharf #Choice #Legal separation #Profit #Memorial Day #Geo Area #Yacht #Sea captain #Committee #Indiana #Map #Barge #Travel #Pontoon boat #Bluetooth #Internet #Greater Caucasus #Tourism #Hotel #Computer reservation system #Leisure #Shipbuilding #Scenic route #Bachelor party #TripAdvisor #Nature reserve #Copyright #Bay #Computer network #Contractual term #Miss Martinique 2023 #Caribbean Sea #Privacy policy #Canoe #Fishing vessel #River #Flagship#Martinique #Swimming pool #Restaurant #Room #Resort #Island #Tourism #Food #Water #France #Beauty #Price #House #Travel #Workforce #Real property #Space #Family #Night #Bed #Village #Nature #Review #Shower #Dating #Tropical climate #Spa #Privacy #Garden #Luxury goods #Fun #Anse #Experience #Balcony #Chair #Sea #Perfection #All-inclusive resort #Hiking #Living room #Walking #Option #Tropical rainforest #Airport #Mountain #Leisure #Bedroom #Storm #Road #Transport #Car #Volcano #Service #Cruise ship #Adult #Health club #Romance #Variable and attribute #Hospitality #Hair highlighting #Museum #Property #Color #Rum #Villa #Bedding #Spring #Theobroma cacao #Natural environment #Tender offer #Bar #Bay #Television #Massage #TripAdvisor #Supply #Location #United States #Route nationale #Therapy #Tropical cyclone #Fishing #Bamboo #Species #Towel #Bed sheet #Waiting staff #Wonder #Studio apartment #Sideboard #Fort-de-France #Culture#Boat #Construction #Festival #Tropical garden #Need #Kitchen #Physical fitness #Tranquillity #Casino #Tradition #Rating #Given name #Emotion #Flower #Hyperlink #Pointe technique #Budget #Simple living #Tuck #Rates #Luxury #Lobby #Booking.com #Interior design #Lodging #Coffee #Tour guide #Bathroom #Taste #Design #Flight #Onsen #Cuisine #Hilton Worldwide #Luxury Resorts #Culinary arts #Vegetable #Alcoholic beverage #Vacation #Region #Groupe Pierre & Vacances-Center Parcs #Camping #Escorted tour #Shooter (drink) #Concierge #Wall #East Coast of the United States #Water park #Distillation #Budapest #Capital #Column #Pier #Rustication #Safety #Eat #Budget #Visa #Exchange rates #Travel Insurance